Toronto is booming, as indicated by the dominant architectural feature in the skyline; the construction crane, and there are lots of reasons to visit Toronto. Our trip was partly for business (Jeff's) and partly as a fun place to celebrate a birthday for the weekend (Kathy's) between our home airport and our trip to Churchill Manitoba to go on a polar bear safari. See our reports here http://www.goseeittravel.com/travel-blog?category=Churchill+Manitoba+Canada
After spending the better part of week in Toronto, I think there are several good reasons to visit Toronto!
1- Arts and Culture
One of everyone's first stops is the landmark, CN Tower. It was built by the Canadian National railway as a communications tower, but someone had the foresight to also build it to be a tourist attraction, which today is one of the top attractions in Toronto. You can enjoy that experience in a dozen of separately ticketed ways, including, but not limited to: elevators to various stages, taking a selfie on a glass floor, and strapped in , leaning over the outside edge of the tower. Choose your level of thrill accordingly! To avoid the crowds...take Kathy's tips for managing popular tourist traps...er attractions...go off season, if you can't, buy your ticket ahead on line and get there when it opens! On the thrill continuum, I was brave enough to stand on the glass floor, but not willing to brave the 50 degree F weather and wind to try the "edge" experience!
But beyond the popular "adrenaline tower", there are also several museums of art or culture in the area that are worth a visit and will give a visitor a much better idea of the culture of Toronto! I'd start with the Toronto Railway Museum (click here http://www.torontorailwaymuseum.com/ housed in interesting looking railway round house located below your feet under the CN Tower. I later learned that it is one of the few round houses still standing in the world. Other interesting museums that bring world class culture to Toronto are the Royal Ontario Museum https://www.rom.on.ca/en#/gallery/recent and Art Gallery of Ontario https://www.ago.net/ which we did not have time to take in during this trip.
2- Dining and Shopping
Toronto is truly a diverse city, and the cuisine reflects that. In five nights, we enjoyed Neapolitan pizza, Vietnamese pho, Thai noodles, and Canadian poutine! We found the best and least expensive places to enjoy ethnic food was on King Street west or west Queen Street West where the hole in the wall take out shops share space with the head shops and dive bars that are being increasingly pushed out by upscale sit down eateries and galleries.
For finer dining, we tried Canoe, http://www.canoerestaurant.com/ with its cool bar looking out to the CN tower, which puts on a 10 minute light show every hour on the hour in the evenings. The restaurant offers Canadian ingredients done up with the gourmet chef treatment. We found the food done well, even if the service was a bit condescending, the assumption made that most folks celebrating a special occasion rarely get a chance to dine in such a sophisticated environment. We recommend you make a reservation, and plan it for a weeknight, because the restaurant is closed for private events on Saturday and Sunday.
If you plan a big night out Friday, Saturday morning you can check out the St Lawrence Market where our waiter at Canoe insisted we try the "Peameal Bacon on a bun" at Carousel.
The distillery historic district is a renovated area filled with upscale shops and galleries and several brew pubs and cafes. This area is closed to traffic and is a nice place to stroll, we recommend doing that during the day, as many of the shops close in the evenings.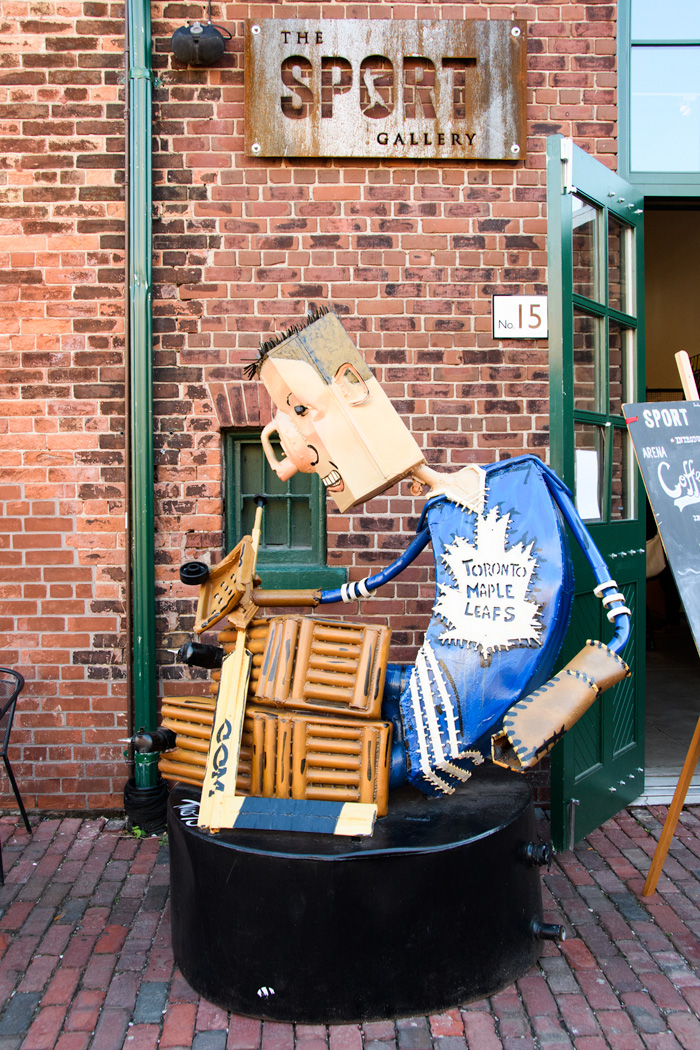 For shopping, Toronto was impressive in that most of the shops were not major international chains such as you find invading most world class cities streetscapes these days. Other than a Starbucks on literally ever corner (we took to joking, whenever we were looking for something, that we could find it "right next to THE Starbucks".) But other than the chains in the Eaton Center, most of the shops we passed along the streets seemed to be local or at least to be Canadian chains, allowing for some local culture while shopping. The major department store still operating since its days trading goods for furs in the early days of Canada's development by Europeans, is the Hudson's Bay Company, now branded with the cheeky "Bay". I was able to buy one the scratchy English wool blankets they were famous for trading for furs from fur traders. They run a few hundred Canadian now, and I'm not sure how they'd respond if you show up with a bloody beaver pelt as payment!
3- Sports
I'm not sure I've been to a city that makes it easier to take in a sporting event downtown. I didn't say cheaper, Toronto is not an inexpensive city, but all of the major sporting event venues for the MLB Blue Jays, NHL Maple Leafs, NBA Raptors, or a handful of other minor league or professional sports are located within easy Uber, or walking distance to most downtown hotels. For the sports fan, planning a weekend visit around your favorite team's next Toronto road trip would be easy to do. Porter flies right onto the Toronto Islands within walking distance of downtown or fly to Pearson about 30 minutes outside of town.
Even if your favorite team isn't playing the home town team, a visit to the Hockey Hall Of Fame is worth a visit for hockey fans and anyone wanting to understand the Canadian Hockey culture. During our trip we noticed sports tourism was booming in the form of youth hockey tournaments based on the number of young players and their families we saw at the Hockey Hall of Fame and Niagara Falls.
 
4- Outdoor Recreation
Although it was a balmy 15-17 C (high 50s to 60s) during our November visit, it's clear that Toronto has an active outdoor culture year round. The city has created "Downtown Discovery Walk" a trail created by a ring of parks around the city that can be strolled nearly continuously. http://www1.toronto.ca/city_of_toronto/parks_forestry__recreation/trails/files/pdf/DW_Downtown.pdf
There are also several spots along lake where benches, Adirondack chairs and a sand beach were being enjoyed even in mid November. During the summer months, the Toronto Islands offer kilometers of hiking and biking trails accessible by the ferry at the end of Bay St, right in downtown. Click here for link to Toronto Island Ferry http://www.torontoislandferryfinder.com/about-the-toronto-islands/ferry-prices-schedule-and-directions/ By the time we arrived in the city, most of the concessions on the Toronto Islands were closed although the ferries still run for for residents over the winter and walking/skiing trails are open. The Toronto bike share bikes looked to be in good use while we were there and had numerous stations for point to point bike touring. https://www.bikesharetoronto.com/
I'm sure if I spend more time in Toronto, I could easily find more good reasons to visit, which I will most certainly do!