When a beloved Zumba instructor moved to Florida, several of her former students talked about going on the annual Zumba Charter Cruise, as a way to reunite with her about year after her move. What began almost as a joke, became a firm plan, and suddenly 6 of us were on planes headed to Miami to embark on Navigator of the Seas for 5 days of Zumba fun with our former teacher!
I had never taken a full charter theme cruise, but I had been kicked off more than one over the years when a cruise I had booked was chartered by swingers, quinceanera girls or Ohio State Alumni. I wasn't sure I loved anything enough to spend several days on a cruise ship doing it, but the opportunity to cruise with friends, and Zumba all day long seemed really appealing! My biggest worries were that I was too old or that I couldn't really rock spandex all day. How could I survive 5 days dancing all day long? The promo videos for the cruise were filled with nubile young things doing Zumba, moving parts I didn't know people even had!
I wondered how a full ship charter would be different from the other mainstream cruises I had taken. Luckily my fears were unfounded, as I discovered the actual cruise to be filled with people of all shapes and sizes, people from nearly every country on the planet. I felt welcome,, comfortable, and had the time of my life! But I did notice some big differences from my regular cruises, which I'll share here, as well as some tips for surviving!
The Big Differences
As a regular cruiser, I was curious about how a full ship charter would be different than a standard cruise. Here are some of the things I noticed.
1-The destinations are secondary to the theme.
Although our cruise had two great ports, Grand Cayman and Costa Maya, generally, on a theme cruise, it'a all about the theme and activities on board and less about where the ship goes. Sometimes, with certain themes, such as golf or motorcycle charter, activities on shore are part of the theme!
Use the arrows to scroll through some photos from our excurions
Our excursions to Grand Cayman and Costa Maya MX were great, even more fun sharing them with a lively group of Zumba cruisers!
2-Many ship venues are unavailable. Depending on the theme, areas of the ship normally open to all guests will be "commandeered" by the charter organization. For instance on the Zumba cruise, half of the pool was turned into a stage!
3-Demographics that usually spreads people around a large cruise ship can be changed. A food and wine themed cruise might fill specialty restaurants to the brim, or in our case, the huge group of ladies sometimes caused unusually long lines at the ladies restrooms!
4-The cost is usually more than a "regular" cruise to pay for the extra staff, activities and entertainment related to the theme. Also, the cancellation policies can be more stringent, with deposits being non refundable. Be sure to ask how your charter cruise will differ from a regular cruise in terms of deposits and cancellation.
Things that don't change!
The same friendly staff are on hand to serve food and drinks and clean up your room. The crew I spoke to were delighted to be working on the Zumba cruise! Even before we boarded, the Zumba teachers were instructing the security officer about how to improve his moves. The crew explained that the positive energy from our Zumba cruise bouyed thieir spirits and made the cruise "fun" for them too!
Use the arrows below to scroll through some photos of the ship, a sample menu and sample daily schedule, as well as a look at how a cabin setup for 3 with a pullman bed looks.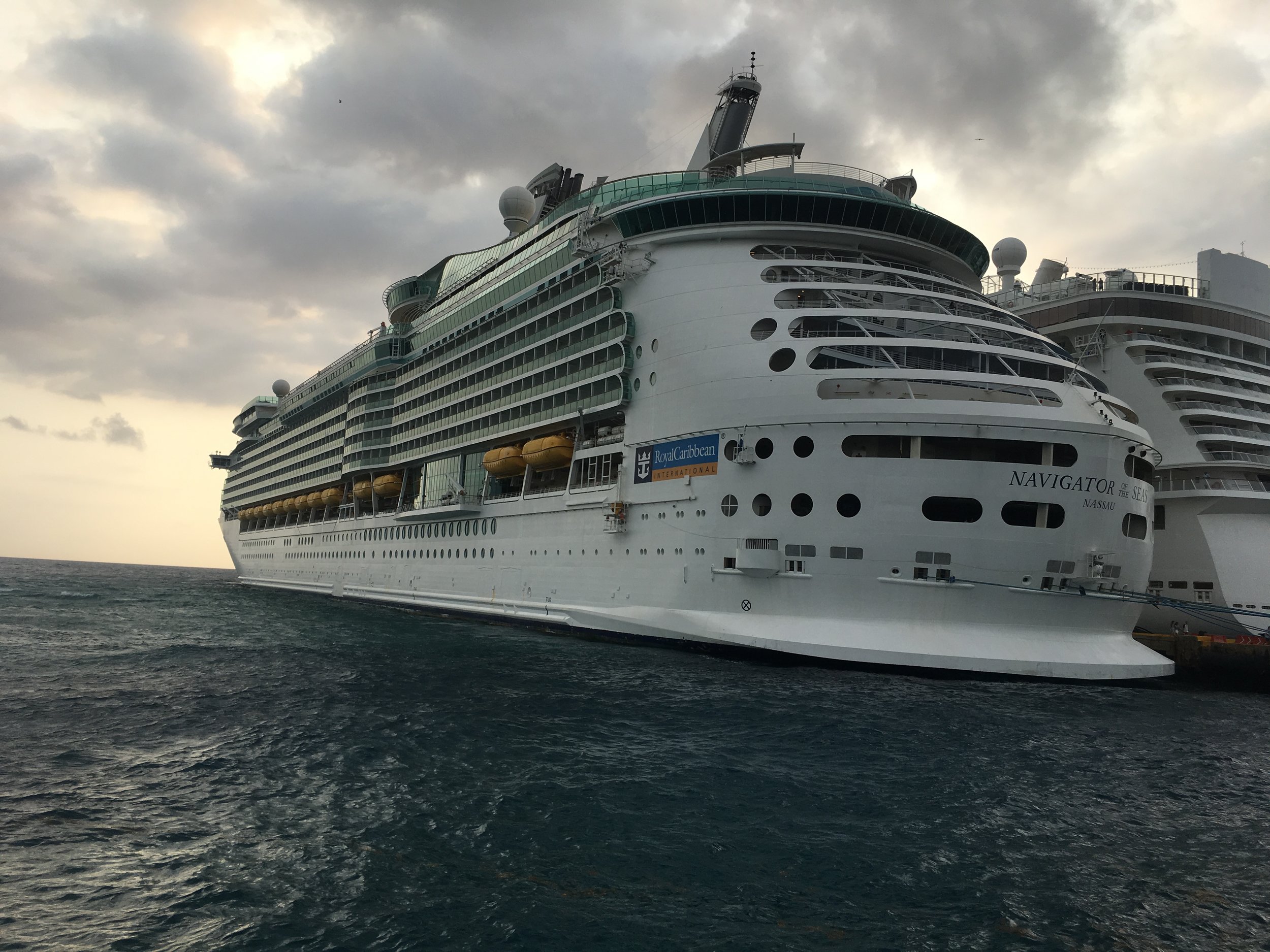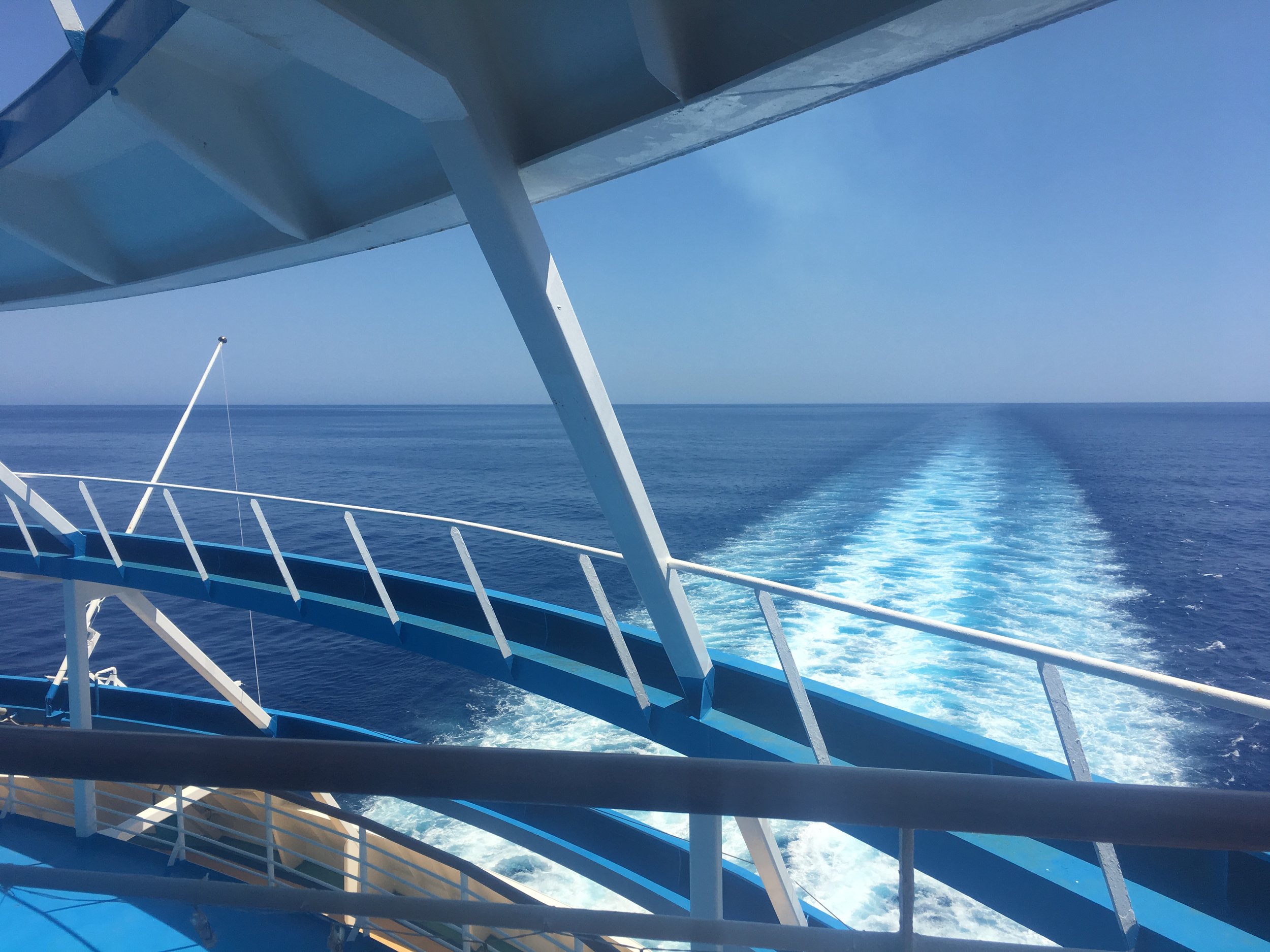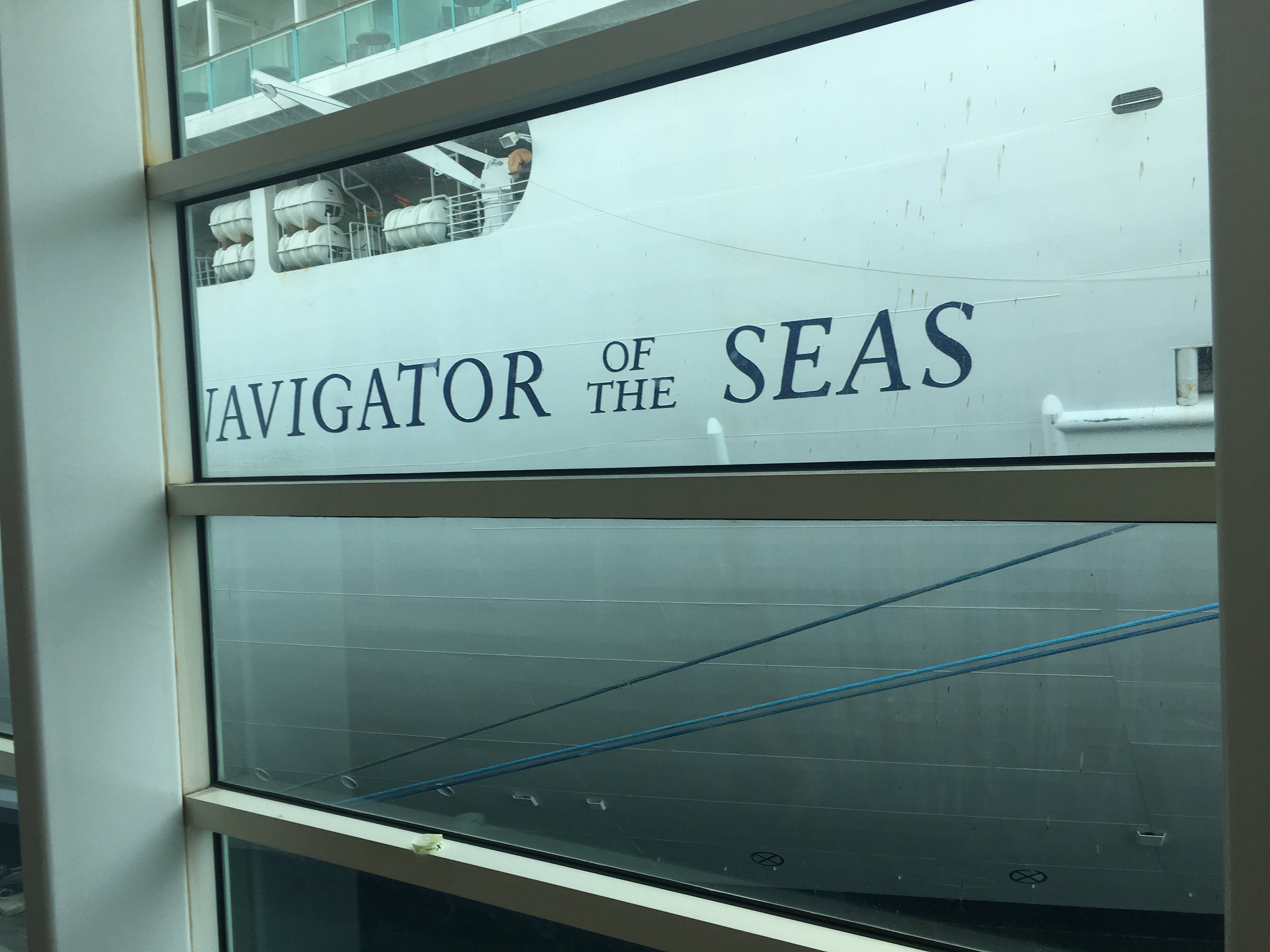 Book early if you plan to get a group cabin that fits 3 or 4 people or one of a few suites, these fill fast! Regular cabins for 2 are generally available, and occasionally specials are offered later if bookings are slow coming in. Be sure to use any promo codes you have for credits and discounts when you book, many can't be added later. (I have some codes posted below you can use)
 
Check cancellation policies and refund-ability of your deposit, before booking
 
Be sure to get insurance for trip cancellation, interruption and medical evacuation within a few days of booking your cruise to ensure preexisting conditions are covered.
 
Check the documents you'll need to travel, make sure these are all in good standing.
 
Come early and enjoy the many pre cruise parties and master classes offered before sailing.
 
Pack carefully...you want to be able to manage your own bags in the airport. The Zumba Cruise was more casual than regular cruises and you'll use less formal clothing.
 
Don't wait till the cruise to break in new Zumba shoes, give them a test drive at home to break them in.
 
You'll be allowed to choose a limited amount of classes ahead of time. However, so many classes have overflow space and almost everyone who wants can participate even if not pre registered. I recommend registering for any presenters you really want access to, and any small, limited classes like Toning or Aqua Zumba, and doing walk in for the others.
 
Decide ahead of time how you will communicate with roommates and friends in advance...internet access on the ship runs about $100 for the 5 days, (decide does everyone need it, or just one person per cabin, and you can all share?) With an internet plan, you'll all be able to use your favorite messaging service. The old school way is to put up a white board on your door (old timers will remember this from college days!) Or decide in advance on a daily meet up time to iron out schedules for the following days.
 
Pack fewer clothes than you think you'll need, many people bought clothes from the Zumba boutique to wear and didn't use all their workout clothes. If you spend most of the day in a bathing suit or work out clothes, you really only need day clothes for port day tours. I actually brought a reversible dress to wear to two dinners!
 
Pack an over the door shoe holder, and some magnetic hooks, which will stick to the metal walls of the cabin, to hold all those little things, (hair ties, sunglasses, water bottles) and keep the cabin organized!
 
I packed a neck lanyard for my phone, and everywhere I went people said they wished they had one, because there are not many pockets in yoga pants! It also kept the phone safe from falling overboard, when taking panoramic shots.
 
If you have more than 2 in a cabin, work out how you will share the bathroom...time limits, rotating who is up first each day? Bring a little make up mirror for finishing touches on your bunk?
 
Take care of your body. Get a massage, bring ice, braces and anti inflammatories if you use those. Hydrate, use sunscreen, and take a break! I took in a lot of classes, but often left after 2/3 so I could experience more presenters.
 
Although there are beverage packages available, alcoholic and non alcoholic, water stations were available everywhere classes were held and food was served.
 
It sounds silly, because cruises have a rep for having food available 24/7, but don't forget to fuel your body well too! It needs more than alcohol (which can be dehydrating) to survive all those classes!
Click on the arrows below to see Zumba fun, including the pre cruise class with Zumba Founder, Beto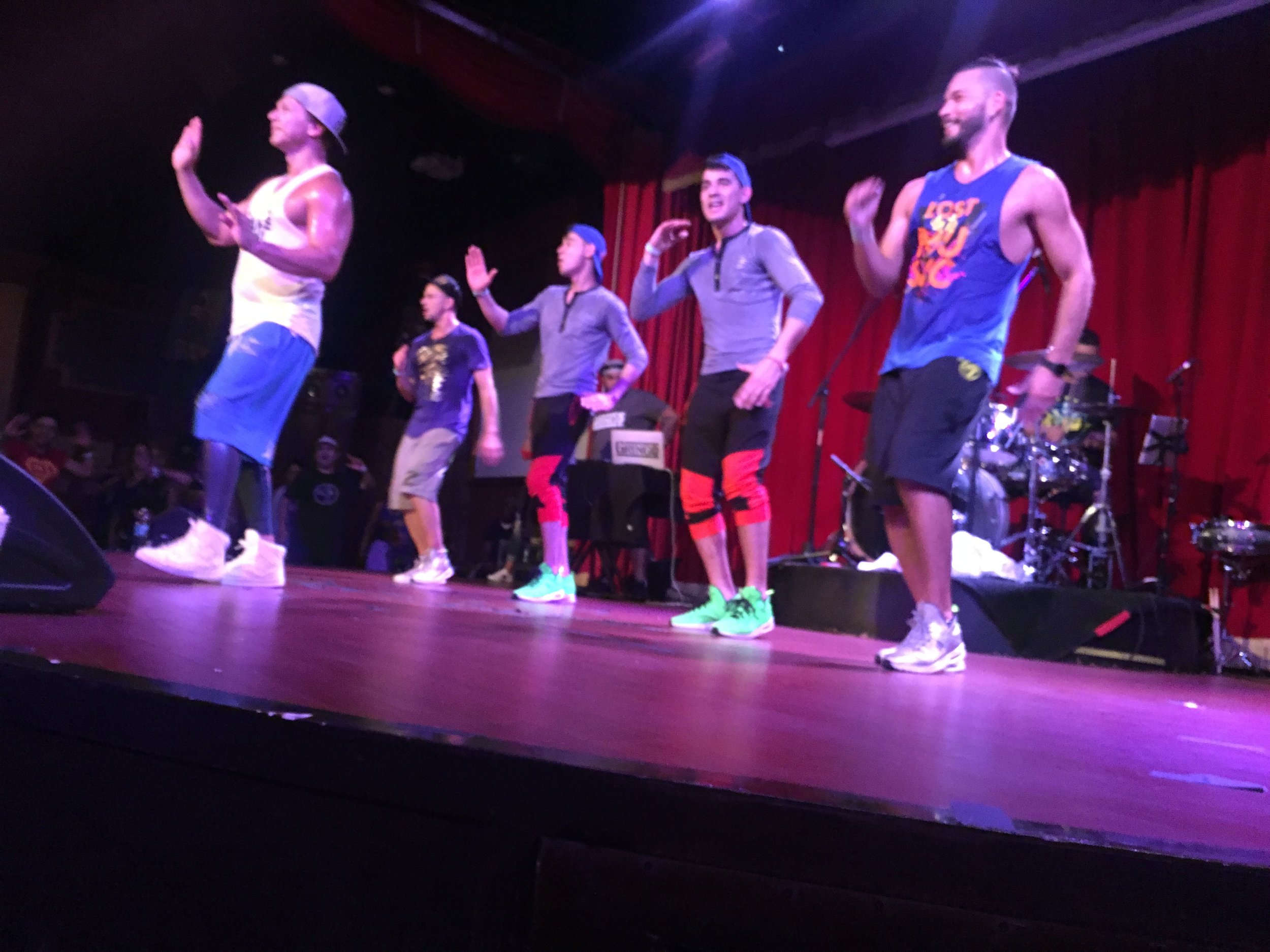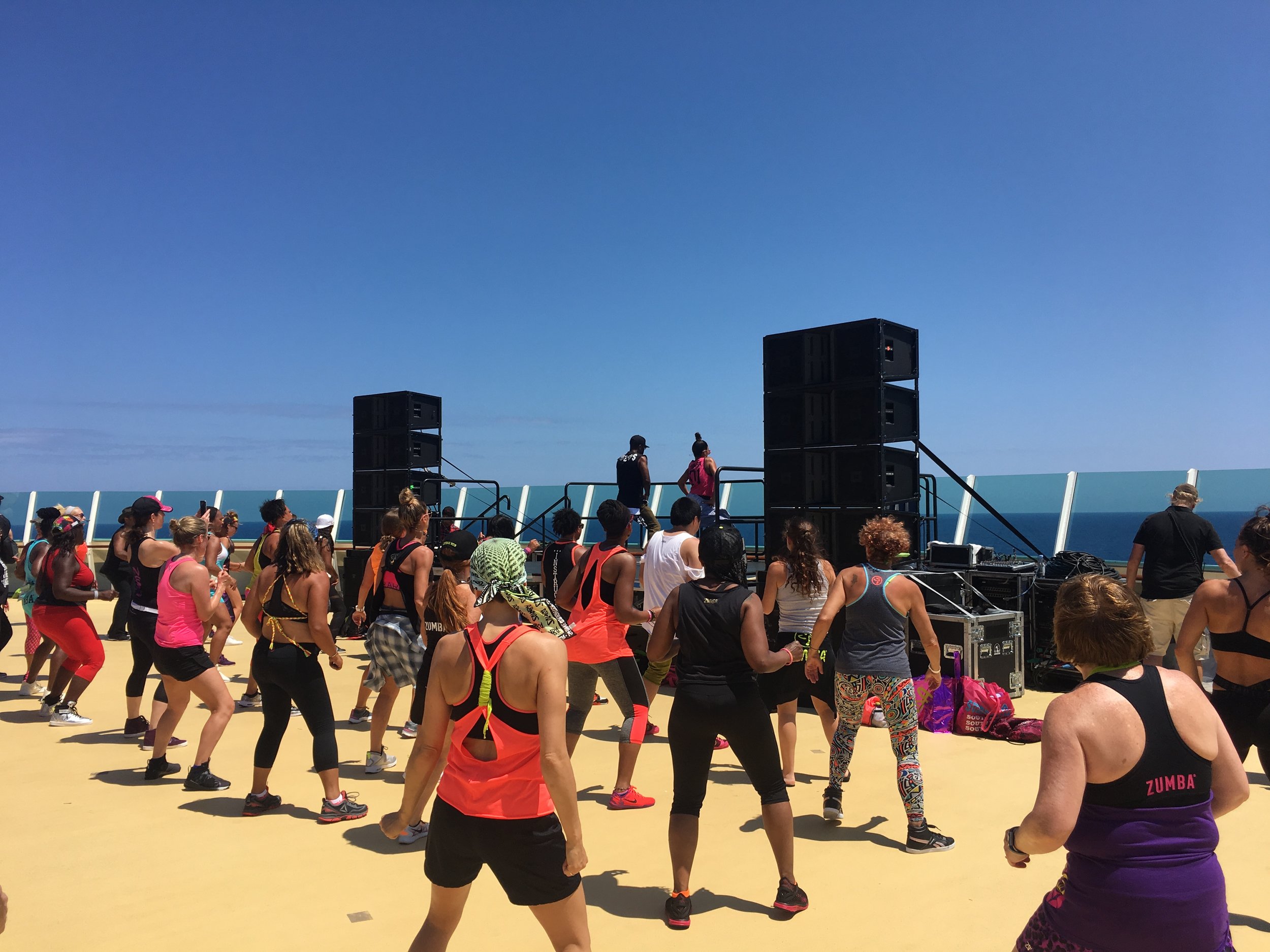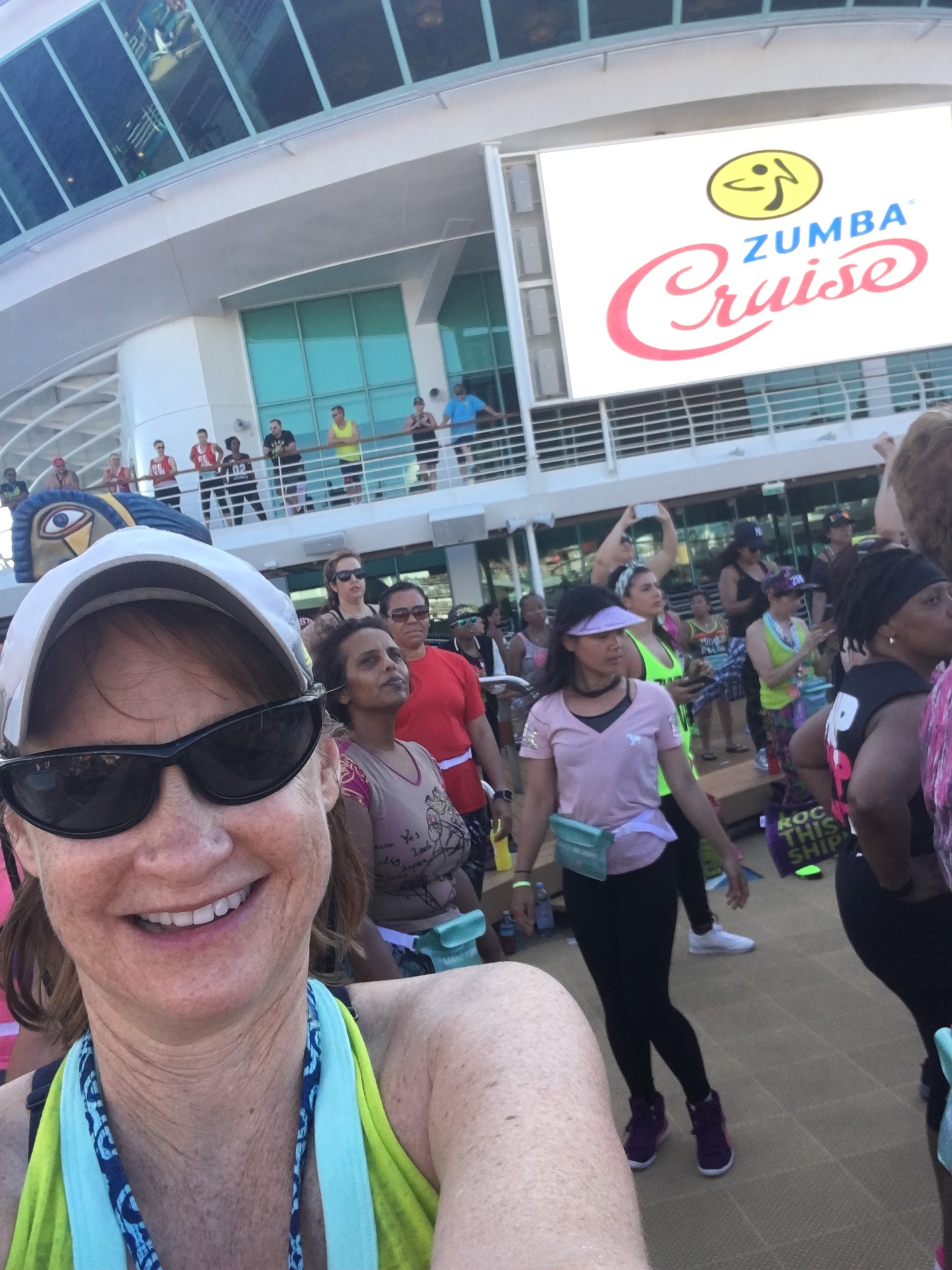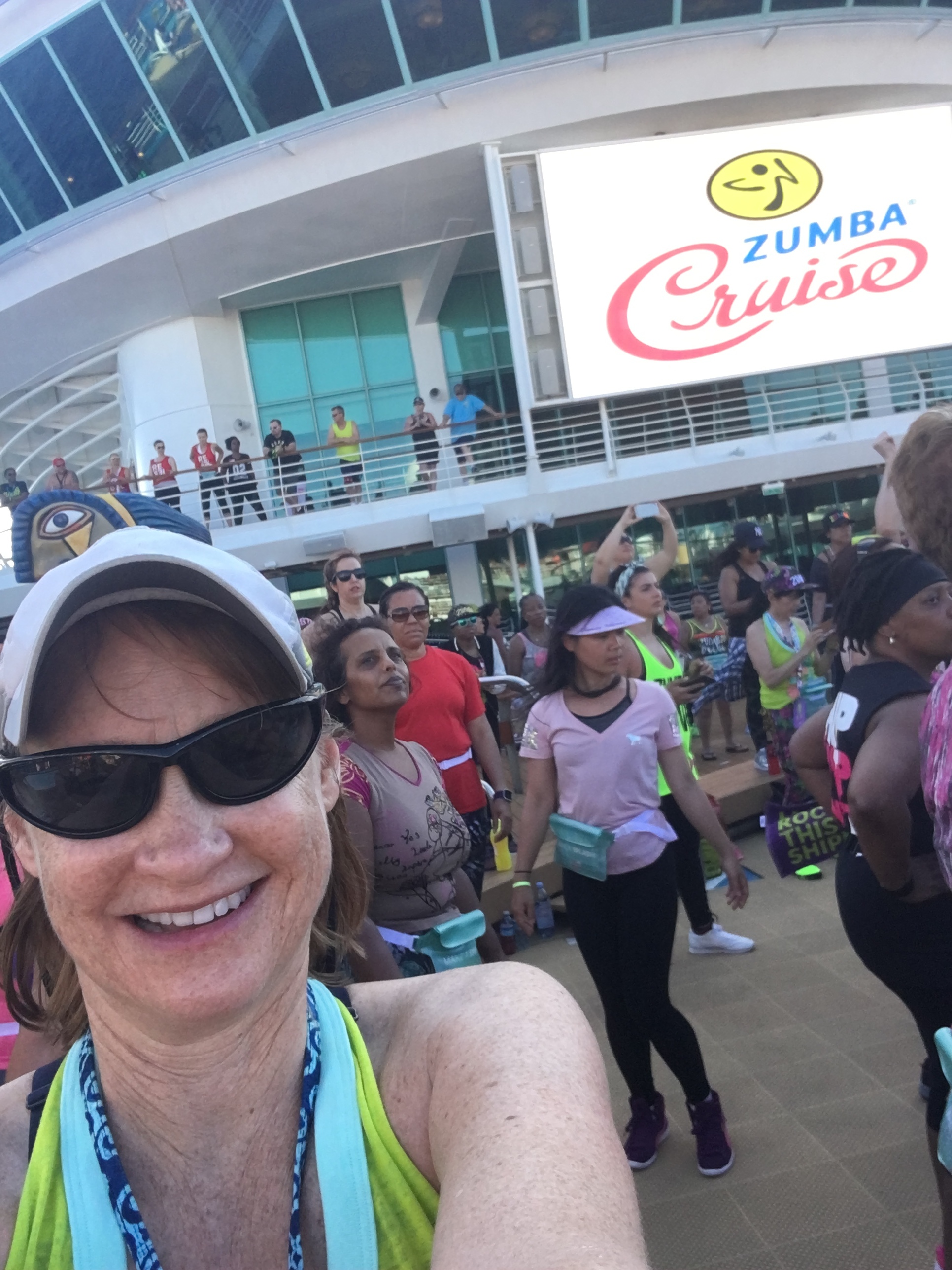 If you'd like to book the Zumba Cruise this year...Registration is open now...the link is:
I have several friends who get some benefits from having people book the cruise with their Zumba Instructor Number. I don't benefit from sharing these, just helping out friends and YOU, because if you book the Zumba cruise with one of these numbers (YOU MUST USE THE CODE AT THE TIME YOU BOOK, it cant be added later) you will usually get a $25 board credit.
Yelena 657807 (who also has a super helpful FB page called Zumbaholics, with lots of tips!)
Concessa 115290
Sheila 576964
Louise 135244
I needn't have worried, combining two things I love to do, cruising and Zumba, with good friends turned out perfectly! I'm already booked to go again!
By: K Klofft Photos: K Klofft and C Brown