We met a couple from NYC in the middle of London in 1988. We spent a few minutes comparing touring notes, and asked them if they'd been to any of the terrific London art and history museums we had been visiting over the last few days. We were astounded when, without a bit of shame or hesitation, the wife replied, "oh, no, we have museums in New York". We walked away from this street interaction feeling both a little embarrassed to be fellow Americans and a bit sorry for them, that they would miss some of the best museums in the world in London (or any place else on the globe, I suppose!) Well, for years to come, Jeff and I would often use the phrase "We have museums in New York", to summarize any behaviors we noticed that seemed dismissive of local culture. It became one of our little travel joke as we explored amazing places, including museums, all over the world for the next 30 years!
A couple of weeks ago we went to NYC to visit our daughter, and made some plans to spend time visiting those "museums in New York". It occurred to us that maybe that couple in London were not wrong, New York does have some amazing museums! We've been to some of the famous ones before, Museum of Natural History, with its whooly mammoth, The MET, The MOMA, and of course they were all excellent! We decided to visit a few based on our interests during this trip. What we discovered is that there is a reason for the New Yorker's pride in their museums- Even the less heralded ones are terrific. They really do have "museums in New York" to rival anywhere else in the world!
I've included a trip report and some photos about a few of the excellent museums we enjoyed in NYC.
Cooper Hewitt
We started our "Museums in NY" visit with our oldest daughter in mind. Recently graduated with a BFA in Industrial Design, The Cooper Hewitt Smithsonian Design Museum https://www.cooperhewitt.org/ was high on her list of "must visit" museums. Located in the old Andrew Carnegie Mansion on 5 Th Ave in Manhattan, it's part of the Museum Mile. Don't be caught off guard by the "Smithsonian" in the title, unlike Washington DC Smithsonians, there is a charge for this one! However, we found the price of admission well worth it! The courtyard is free and open to the public, with pleasant benches and chairs to relax. There is free outdoor art to enjoy, and a take out cafe as well as a gelato cart tucked into the quiet courtyard.
The building itself is stunning, with early 20th century architectural details and grand decorative fixtures. Displayed within that context are some of the most modern design ideas displayed alongside decorative arts from nearly every period, with an especially large collection of Jazz Age artifacts.
We began our visit with a stop in the "Process Lab". This decorative room of historic woodwork is set up to walk people through the process of design. Our newly minted designer described it as "four years of design school distilled into one room!". I see it as a hands on way for visitors to see design as the process of solving problems. It was amazing to watch a school group work their way through the exercises and came up with incredible solutions to challenges in their own community. These are hung on the walls for future visitors to examine. It was also wonderful way for non designers to start their visit to the museum by gaining an understanding of how the design process works, and having that inform your experience of the design, new and old in the rest of the museum.
Another modern innovation that takes the Cooper Hewitt to another level in the museum world was the addition of touch pens shared with every visitor. If you see an exhibit or work of art that interests you, you can simply touch the pen to the icon on the display and all of the things you tag will be instantly saved on the web to an account you can access with your ticket number later. This way you can revisit things you liked, explore them further, or share them with "friends" on social media. It's an incredibly simple, but "new" way of experiencing a museum! (we saw 70 yos participating alongside digital native teens!)
In addition to a special exhibit, DE volve , by performing and visual artist Esperanza Spalding, we visited a The Jazz Age exhibit and the Immersion Room, where you can make your own digital designs and have them projected on every surface of the room!
The National September 11 Memorial and Museum
We have children that are just a bit too young to remember much about 9/11. Being small children, and being from the Boston area where two of the flights originated, our daughters were good friends with the children of an AA pilot, who was only spared that day because it was not his week to fly flight 11. Nearly every neighbor lost someone that day, and our friend the pilot lost several colleagues,. We felt it best to protect them from live news at the time to ensure his children weren't traumatized by intrusive questions from friends. So it seemed that nearly 20 years later that they should fully understand what happened that day, and how it changed the course of so many individuals lives, but also the course of our country forever.
The 9/11 Memorial https://www.911memorial.org/museum is located at the former World Trade Buildings that were destroyed in the attack. Today, they are granite "walls" on which the name of every victim is inscribed. Inside the low walls is a huge waterfall flowing into a black pit. It's a somber reminder of the falling towers and even on a beautiful sunny days is so dark, it's impossible to see the bottom. This memorial is free and easily visited from the street.
The 9/11 Museum https://www.911memorial.org/museum is built underground. There is an admission charge and it requires buying timed entry tickets. This is usually best done online well in advance of a visit, although we were able to buy tickets the day before, probably because many other people avoid going to NYC during a July heat wave!
The main exhibit is a time line that takes visitors through the events of September 11, minute by minute, with videos, artifacts and audio recordings of the phone calls heroes made to warn others before crashing. It's a pretty intense experience and photos are not allowed. Other parts of the museum feature uplifting messages and art work that arrived from all over the world after the attacks. Much of the museum is also artifacts from the wreckage and showcasing the basement of the original buildings that were on the site. Expect to wait before entering, even with a timed ticket, for security and general crowd control. Touring the exhibits themselves could take anywhere from 2 - 4 hours depending how thoroughly you choose to examine them.
The Smithsonian Museum of the American Indian
Our final museum of NYC (for this trip!) was the Smithsonian National Museum of the Native American Indian. http://www.nmai.si.edu/ This Smithsonian has branches in NYC and Washington DC, and is free of charge. Housed in the old Alexander Hamilton Customs House in Lower Manhattan, this museum has on display thousands of artifacts collected by George Gustav Heye at the turn of the 20th century. Since becoming part of the Smithsonian, efforts have been made to bring context to collections by marrying them with history from indigenous people. Additionally, the NYC Museum includes the DIker Pavilion for Native Arts and Cultures, a space for exhibition and performance.
The museum's home is interesting itself, as a National Historic Landmark building and the rotunda is filled with interesting trompe l'loeil "statues" and murals painted around the ceiling.
The galleries do a good job of educating visitors about the general geographic areas where people lived and how the geography created different cultures and nomadic clans that are not easily catagorized. Artifacts are displayed along with the maps.
During our visit, a Native Fashion Now was on display (until early Sept). This exhibition of contemporary fashion designed by Native Americans and influenced by Native American culture. http://www.nmai.si.edu/explore/exhibitions/item/?id=954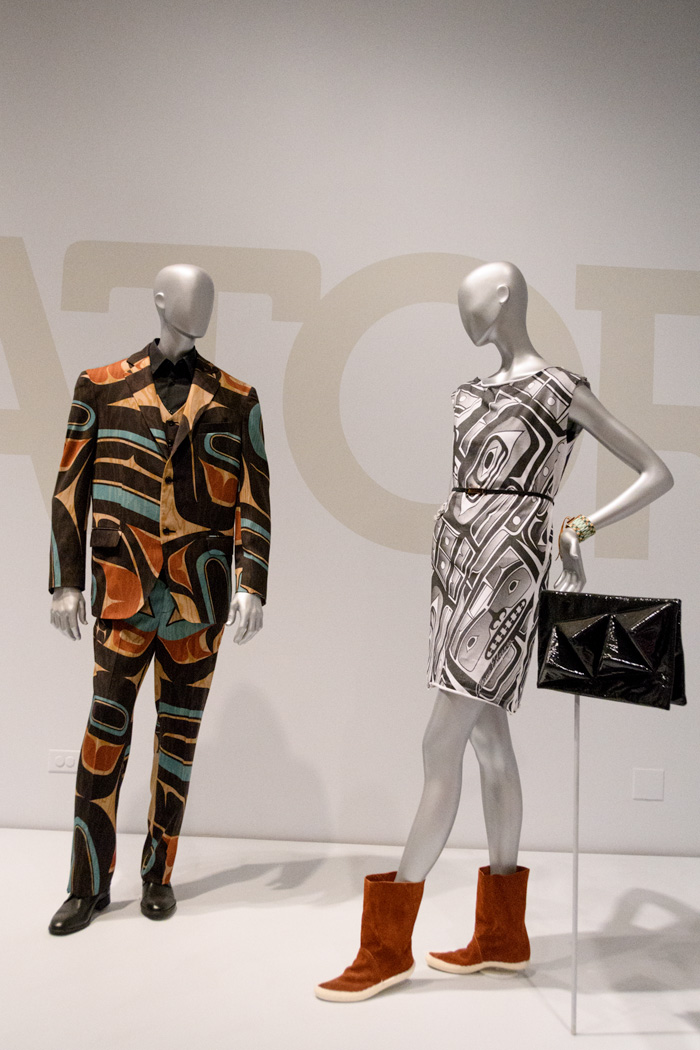 Our visit took us to three very different museums, although each was presented in engaging and thoughtful ways. We left NYC truly feeling that New York City does in fact " have museums" and they aare among the best the world has to offer. It won't keep me from visiting museums in other parts of the world, but it will get me back to NYC to explore more museums in the future!