By: Kathy Klofft
Photos: Mary Hardwick
What makes a perfect girlfriend weekend? I had a chance to think about this recently when I planned "girlfriend" weekend with a good friend. I tend to travel with my husband and photographer, Jeff, because we have similar travel interests, but a recent trip to Savannah Georgia with my friend, Mary, got me thinking about what makes a destination great for the gals trip, and here are some of the ways Savannah delivered!
1- Pampering Hospitality
Most "girlfriends" are also employees, wives, moms, and daughters. Women wear a lot of hats and most of them involve caring for and helping everyone else!! It's nice to be pampered ourselves once in a while. Savannah is known for it's warm hospitality and that is exactly what Mary and I experienced. We decided to check into The Eliza Thompson House in the heart of the historic district. We were offered a glass of lemon water and cookies, the moment we walked in the door. Kelly, the wonderful concierge made dinner reservations around our plans and made us feel welcome every time we walked through the door, plying us with more food and drink! The Eliza Thompson House serves a full buffet breakfast, a pre dinner wine reception, and an after dinner dessert bar. There was always a lively scene of guests socializing in the parlor. We met other women on our flight who decided to rent a town house, and that is an affordable choice for larger groups, but we enjoyed that someone else was the one putting together meals and snacks all day! There are also several boutique hotels within the historic district.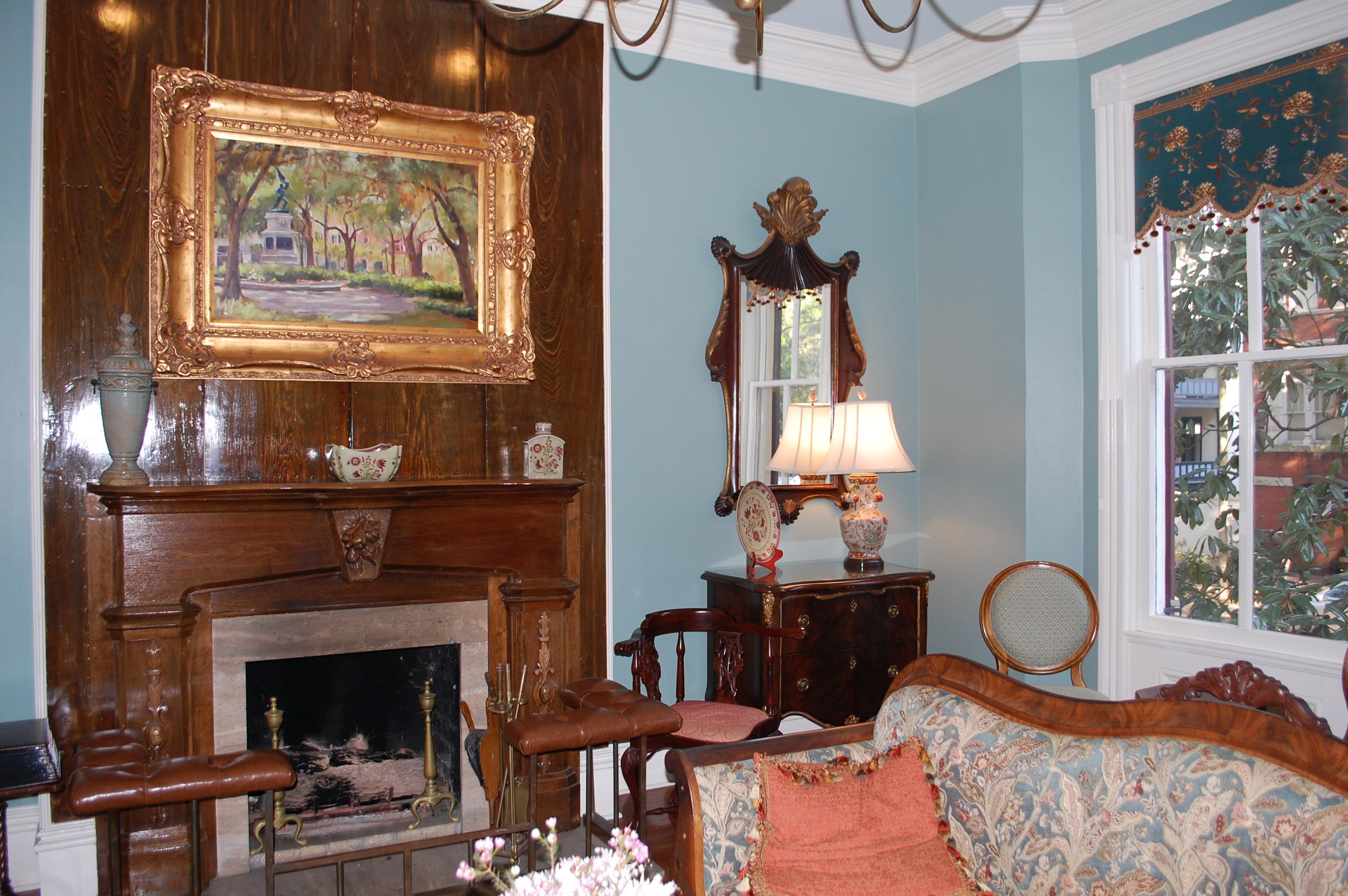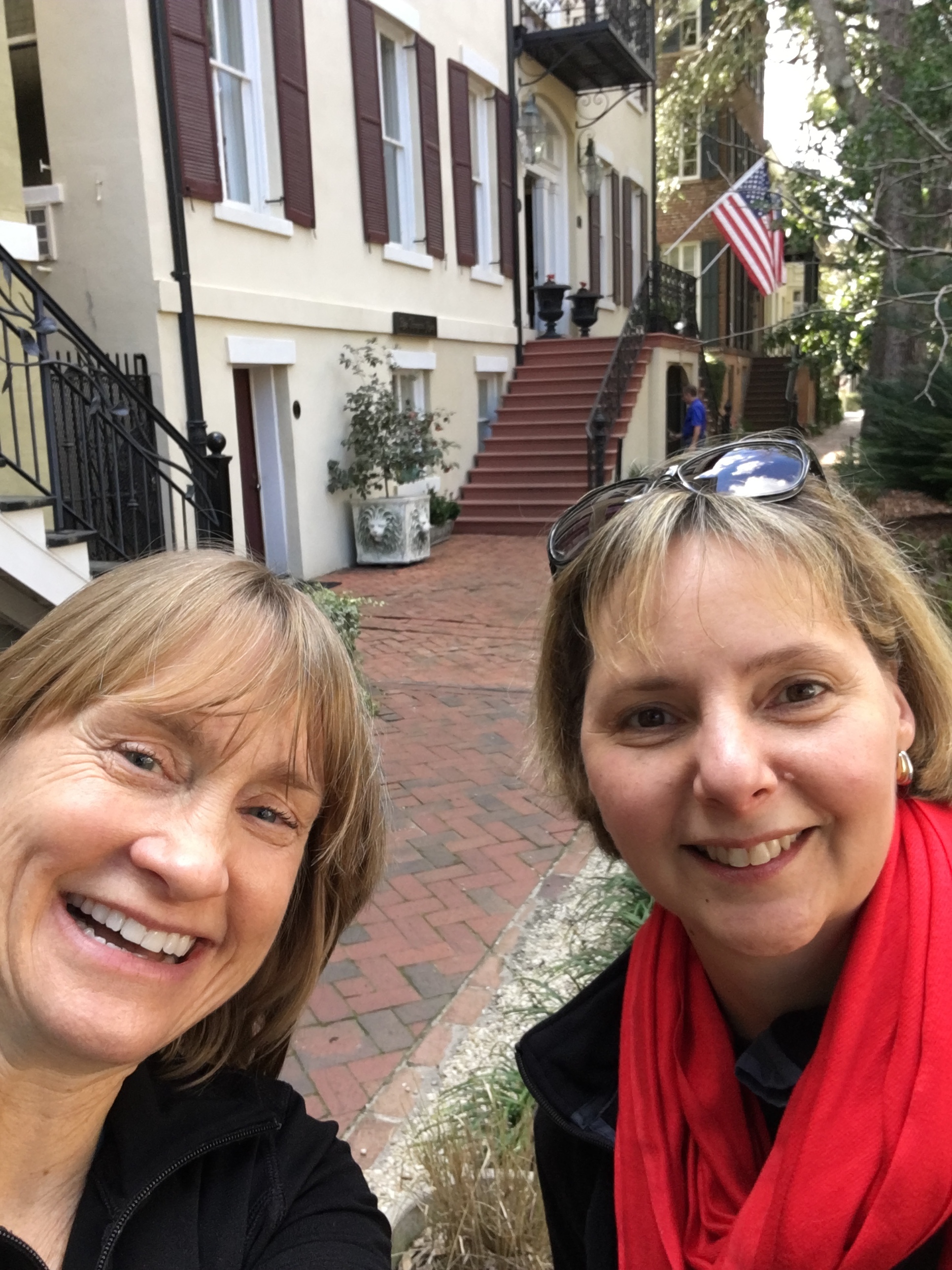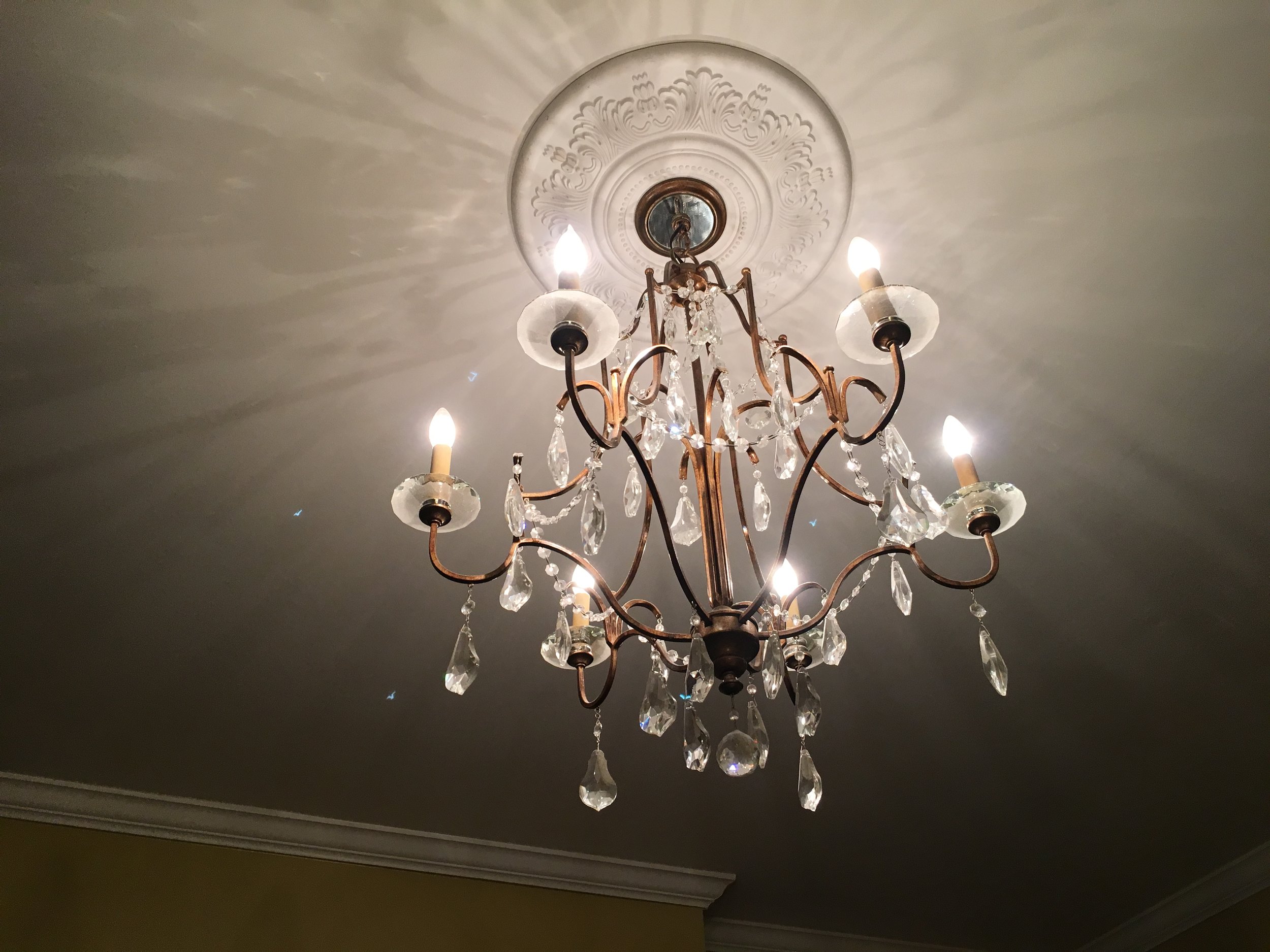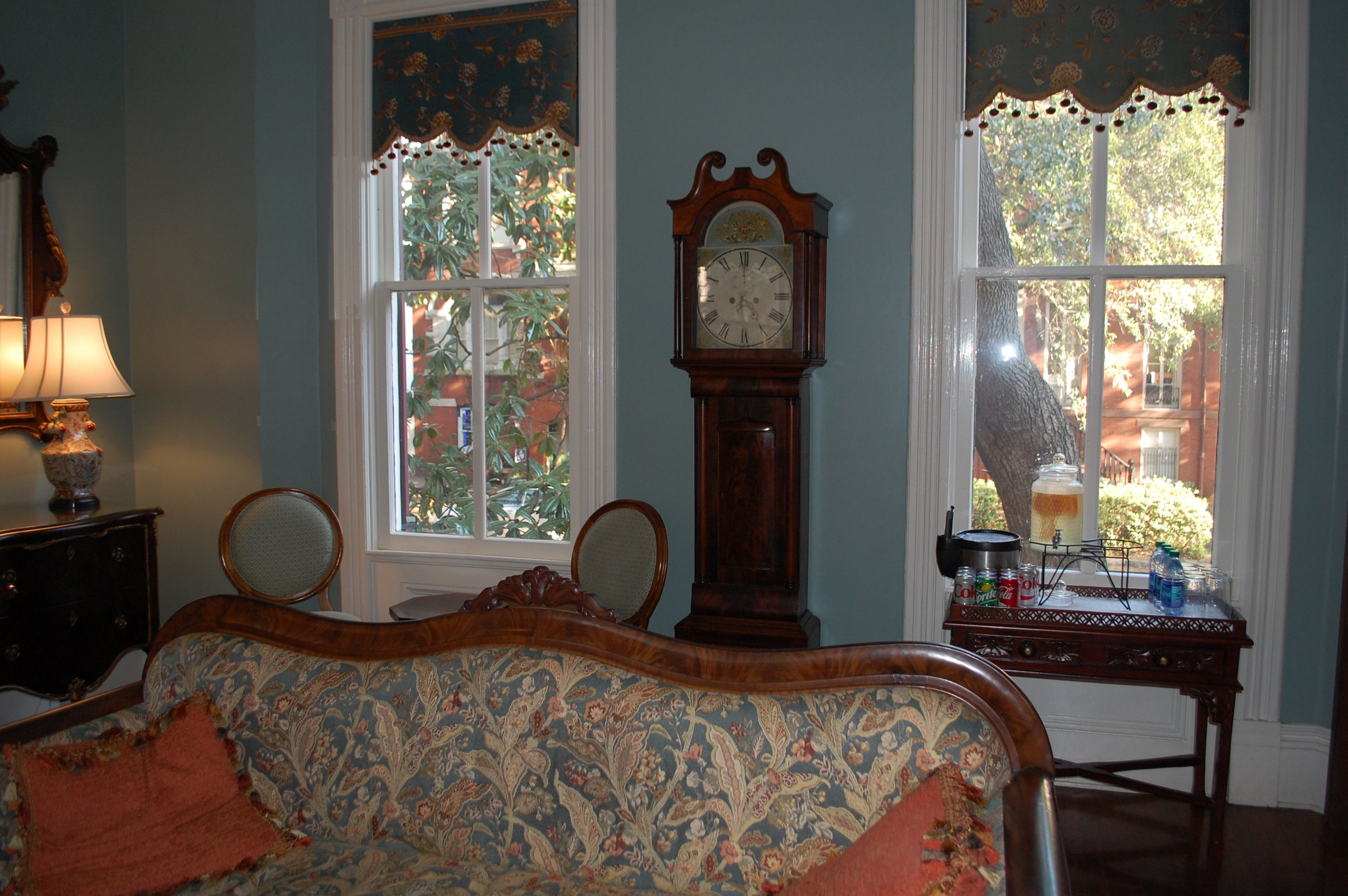 Some images from Eliza Thompson House
Lodging Tips:
Book early because many rooms in historic properties have a single king bed, so doubles can book up quickly.
Consider an off season trip. March/April/May and September/October are high season in Savannah. We traveled in February, and while the temperature struggled to get to the 70's on some days, we were able to secure last minute reservations at nearly every top restaurant we chose. Crowds and prices can make a high season trip less fun- difficult dining reservations, and crowds on the streets. We heard that Savannah's St Patrick's Day celebration population swells to over a million people. While it might be an "experience"; it certainly won't be relaxing!
If you are driving to Savannah, consider lodging that provides a parking lot or garage, street parking is hard to find and often requires frequently moving your vehicle during the day.
2-Incredible food and drink, everywhere!
I guess I was unprepared for how excellent southern cooking can be! Liberal and unapologetic use of butter, cream and the best local ingredients mean that everything tastes amazing! We were fortunate to arrive in Savannah during Restaurant Week, where many places were offering a $30 prix fix menu with appetizer, main, and dessert, and occasionally a glass of wine! We tried all the local specialties- shrimp and grits, crab cakes, she crab soup and southern biscuits that melt in your mouth. We didn't always take the Restaurant Week deal, but even when we didn't, we found nearly every restaurant we visited cheerfully offered to split entrees and appetizers and provided separate checks with out us asking. We hit the riverside candy houses to try pralines, pecan brittle and stock up on candy gifts to bring home, after securing a promise form the clerk that "what happens in the Savannah's Candy Kitchen stays in Savannah's Kitchen". So I won't be talking, but let's just say every woman on our flight home had a bag from Savannah's Candy Kitchen, and I'm sure it was all for the husbands and children!
Dining Tips
Book reservations in advance during the busy season, ask the concierge to make difficult reservations
Rely on local advice for restaurant recommendations; there are some terrific places to eat and then there are some places with incredible reputations. The locals know the difference between the new hot place and the old tired place, and everyone we met was happy to tell us their favorite place. We took local advice all weekend and the only bad meal we had was at the Subway, where we grabbed salads simply because we really needed to use the restroom, and it was the only one we could find!
If you are planning a girl friends weekend, make a pact that no one will "have the ceasar" and make everyone else feel badly. Commit to embracing the fat, gluten, sugar and alcohol, (unless you have an actual diagnosis that makes it impossible) and just ENJOY!! (every calorie is worth it, trust us, you'll walk it off!)
Click on the restaurant name for a link to the website and menu, click on any picture to expand.
The Public offered tasty takes on traditional southern food but with a modern relaxed atmosphere. Vic's on the River, housed in an old cotton warehouse, overlooks the river and also specialized on modern Southern cuisine and cocktails. We enjoyed their excellent Restaurant Week menu and enjoyed it! The Mellow Mushroom was recommended as a great place for vegan pizza, the huge funky pizzeria populated with open carry motorcycle dudes and glittery, be-ribboned cheerleaders when we visited, offered unique pies and salads that were inventive and large enough to split.
Even if you can resist the temptation to eat any of the goodies arrayed in the hundreds of square feet of candy cases here, it's worth a visit just to ogle at the candy making. Pralines are dabbed out before your eyes, and the taffy wrapper is mesmerizing. Best of all they offer free samples!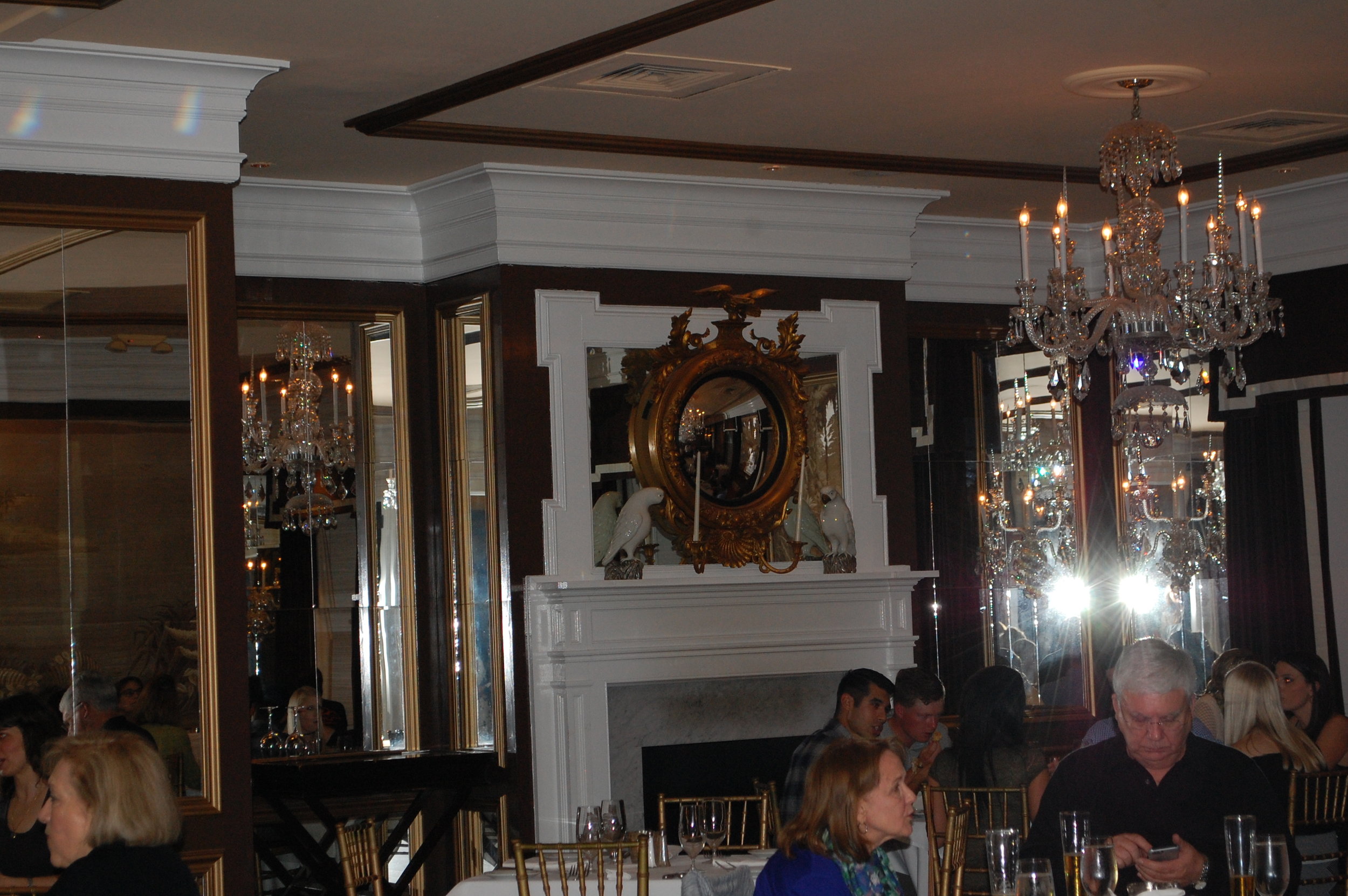 The Olde Pink House is located in one of the older historical houses in Savannah, with 4- 6 tables in each of the traditionally decorated rooms, and a much larger ballroom where I'm sure weddings must be held in the spring! The history and friendly service makes this place seem like a "big night out" place for dressing up and celebrating birthdays and anniversaries with "0"s in them. The delightful part is that despite being a "quintessential" Savannah touring must do, the food is excellent!! We enjoyed super sweet "pink lady" lemonade cocktails and the best she crab soup I've ever had, as well as a few delicious starters including their shrimp and grits and deep fried jalapeno macaroni and cheese. We didn't have room for entrees after all that cream and sugar, but they looked delicious going by to other tables! A piano bar in the basement sounded lively, and a historically dressed singer came around to the tables to chat.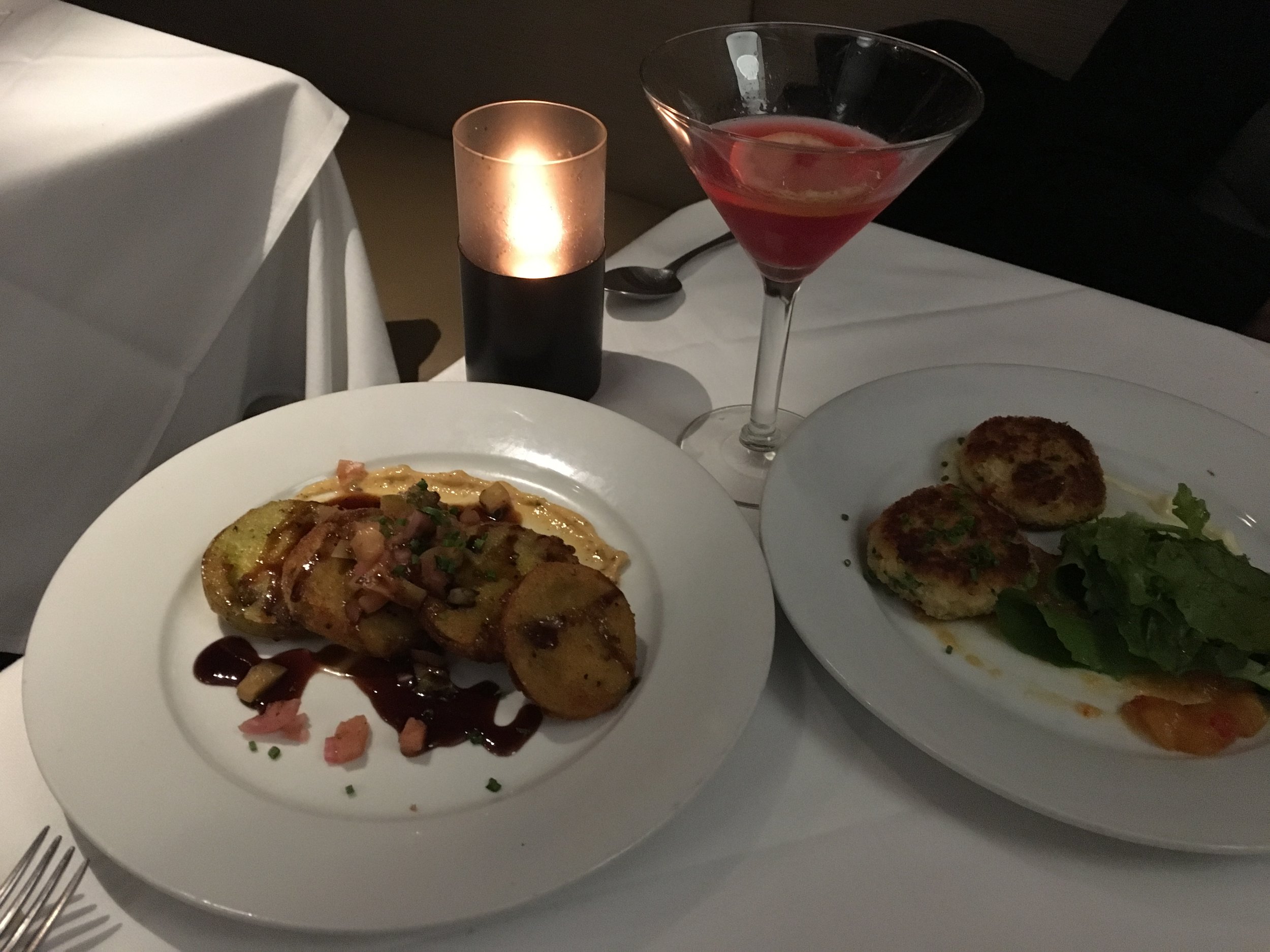 a.lure is a narrow restaurant in the City Market area and is popular with locals for it's "contemporary Low Country cuisine" It was our last night out and kept our streak of excellent meals alive! We shared fried green tomatoes and split a scallops and carrot risotto entree, called "peas and carrots". We skipped dessert, saving our calories for a trip to the Lulu's Chocolate Bar.
We arrived at Lulu's when there was still a "short" wait of 20 minutes for a table...not being youngin's we decided to get one for the road and we were admitted to the take out line after a 5 minute wait. We had our pick of cakes and other chocolate delights, but we decided to select from the extensive chocolate martini bar. Our mint chocolate and mocha cappuccino martinis weren't as pretty in the plastic to go cups, but they tasted just as sweet! Did I mention that Savannah has an open container law? Taking your drink out on your stroll around the city is encouraged, and appeared to also be popular!!
3- Twenty-Two Public Squares and a Huge Park to Walk (and Talk!) Through
Is it just me, or do you also go out with your GF's and after talking all day, you come home thinking about 3 things you forgot to talk about? Ladies like to talk and with 22 squares to stroll through, Savannah is a great place to walk and talk. Savannah's historic district is neatly tucked into a roughly mile and half square space, so you can cover one end to the next easily on foot.
The squares were designed by James Oglethorpe, who left Britain to start the 13th colony. He had a Utopian idea of designing the city around public green squares with public facilities such as churches and schools on the edges, surrounded by lots leased out to colonists who would work their own plots. He prohibited alcohol and slavery, largely to make sure people would be productive and not idle, and he also prohibited Catholics, to keep out the French and lawyers, to prevent people from solving their own disputes. The location of a "dueling square" on our tour suggests that maybe that wasn't so successful! What is amazing, is that although his vision failed in many ways; eventually slaves were brought in to compete economically with adjacent slave holding colonies, and the Cathedral of St John the Baptist and multiple law firms exist in historic district today, the basic structure of Ogelthorpe's public squares persists to this day.
The best way to take in these squares and learn about the history of Savannah is to take a tour. There are trolley tours, horse carriage tours, bike tours, walking tours and even a tour where you peddle a giant bar around the squares with a dozen other people! There are historic tours, military history tours, tours of movie settings (including Forest Gump and Midnight in the Garden of Good and Evil) Girl Scouts tours (Savannah is the birthplace of GS founder, Juliette Gordon Low) and ghost tours. It's a good idea to seek out what interests your group and plan at least one tour around that interest.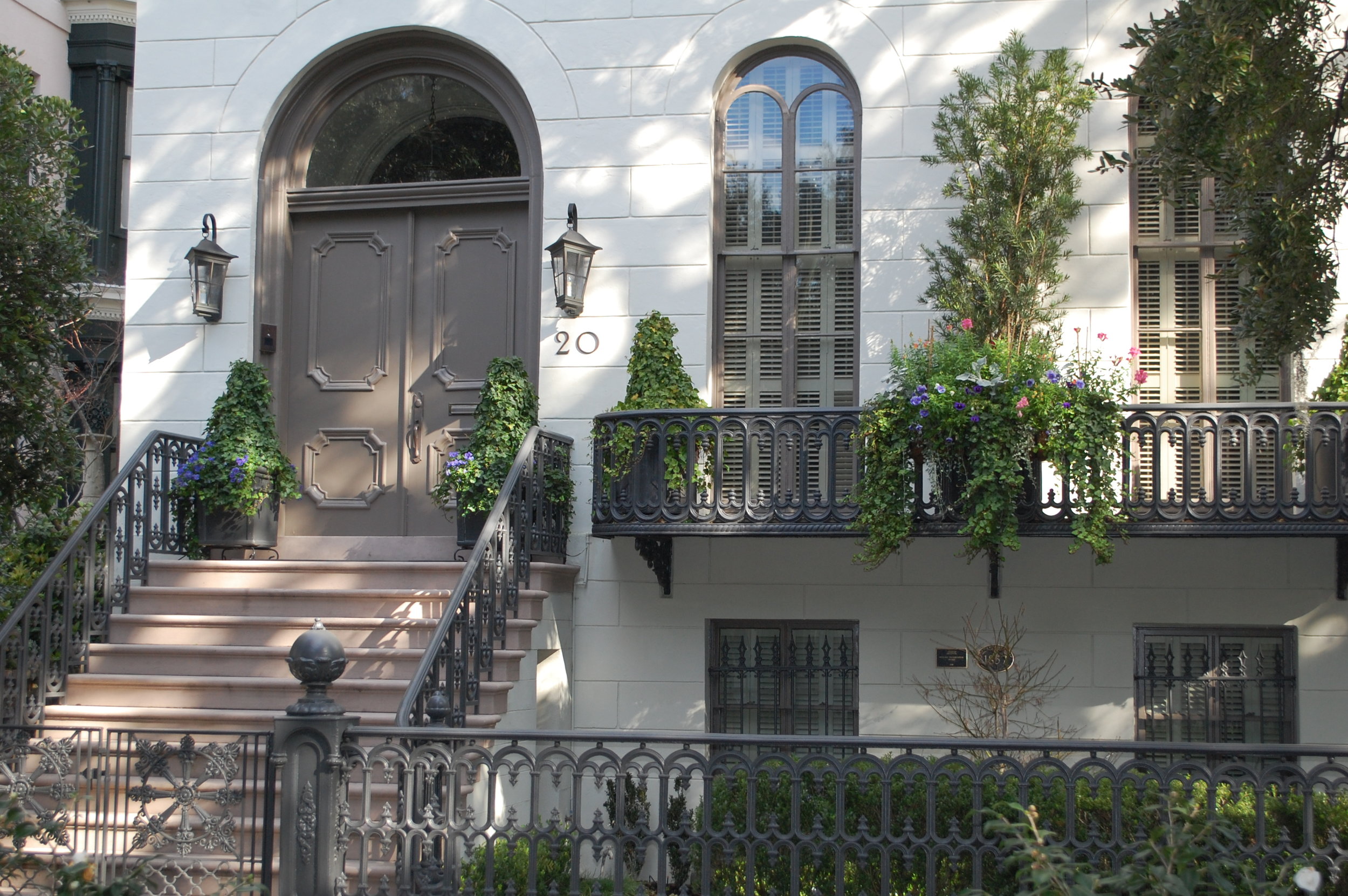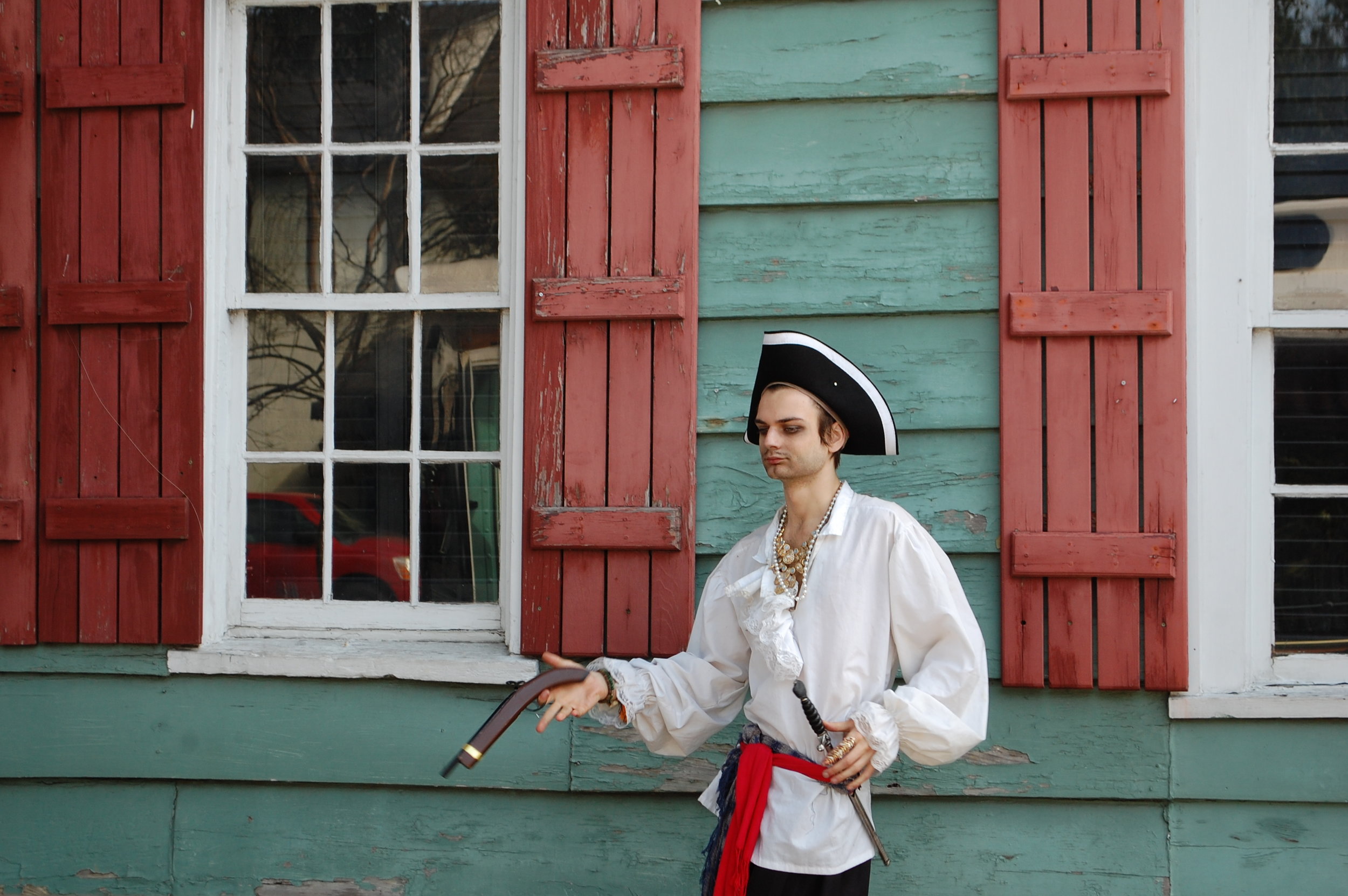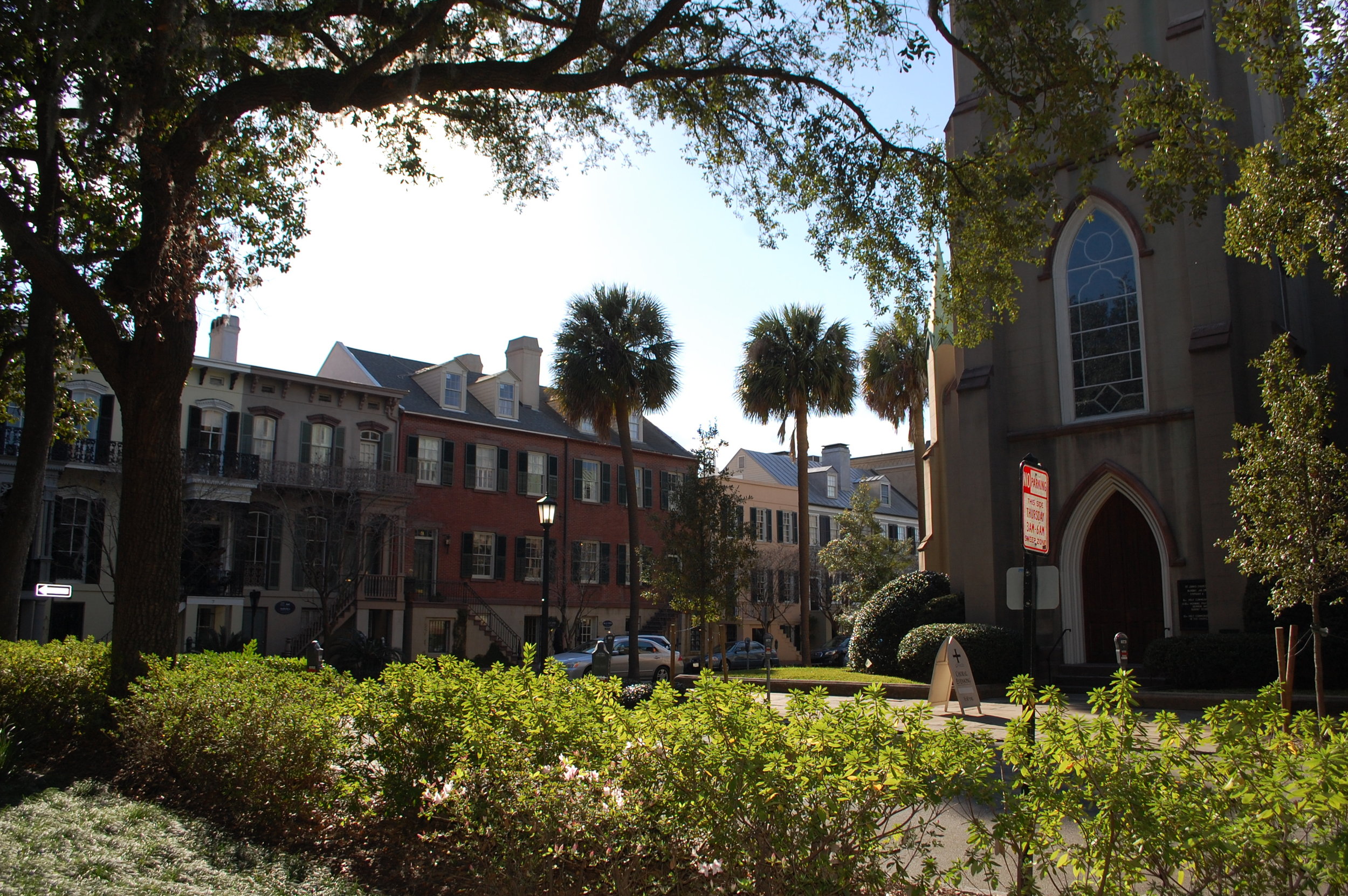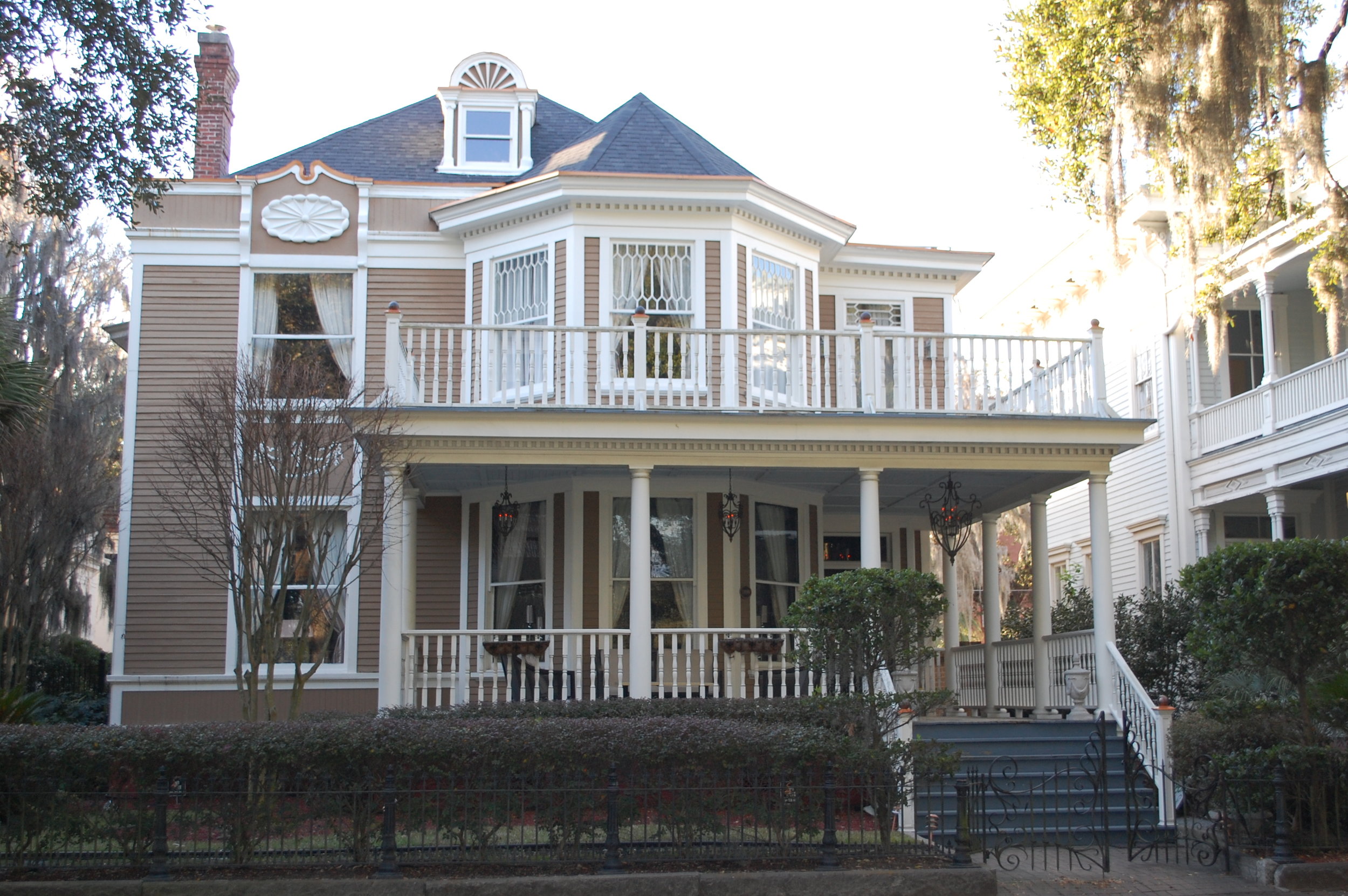 Touring Tips:
Wear comfortable shoes, and look down, there lots of rough brick pavers and tree roots to manage
Its a good idea to take an introductory tour to get a feel for the city and the lay of the land. We chose a trolley tour, and the guides were well informed, and pretty entertaining. But the options are endless!
Even if you take a tour, I recommend following along with this excellent guide book- The Savannah Walking Guide by Paul Bland which we used on our own as we followed adaptations of the walks. It's very clear, easy to follow and shows photos not only of the current sights, but what it looked like or what was there in the past. Every time we walked from our bed and breakfast we took a different route, stopping in the squares and reading form the guide book to get more detail about the square.
You aren't likely to need a car in the historic center, so don't bother to rent one if you are flying. Car hailing apps are readily available in Savannah and cheap!
4- Savannah was Home to Some Amazing Women
I will leave the tour guides to tell you all the stories, but in Savannah, a woman spurned is a woman motivated! One example, Juliette Gordon Low, after sustaining a hearing loss, and a bad marriage with her husband squandering their fortune, she founded a woman's movement that is still going today! The Old Savannah Trolley tour features a historical character actor telling a fascinating story of one of the first Native American woman landowners. There are statues of women waving sheets to sailors, women who founded hospitals and art museums and tales of ghosts of woman spurned at the altar. If you want to "meet" some powerful women from history, Savannah is a great place to go!
5- Beaches, Golf, Shopping, Art Galleries and Spas Nearby
While our trip wasn't long enough to enjoy all of these extra amenities, we met a mother/daughter/aunt group who spent a day at the spa and loved it. We made an effort to visit the Savannah College of Art And Design (SCAD) shop and other galleries in the City Market. Not even an hour away are top notch beaches and golf courses at Tybee Island and Hilton Head for those who enjoy that. All of these things can be found in most good "girlfriend" getaway locations, but I think Savannah's reputation for hospitality and excellent Southern food paired with an easy and safe to walk city, and strong commitment to preserving women's history makes Savannah one of the best girl friend get away cities in the country!