I know plenty of people who enjoy taking Zumba classes, and yet they always seem shocked when I tell them there is a Zumba cruise each year open to ordinary students as well their families, Zumba instructors and Zumba presenters from all over the globe! A Zumba cruise is a little different from an ordinary ocean cruise (see how in our report of the 2018 Zumba Cruise here) but for anyone who enjoys a positive, high energy environment and dancing, will enjoy this unique charter cruise. And if you are a Zumba instructor or fan, you'll get to dance with some of your favorite Zumba presenters and founder, Beto Perez.
Newly Refurbished Navigator of the Seas
The 2019 Zumba Cruise was chartered on the beautiful newly refurbished Navigator of the Seas. Pool and sports decks were upgraded with new colorful amenities such as water slides, covered cabanas, clam shell chairs, and hammocks. Faux palm trees provide more shade and color. These colors align with the colorful new "Perfect Day" at Coco Cay, prvate destination recently launched by Royal Caribbean, and because NOS will make short cruises from Miami to Coco Cay regularly, the theme is consistent. Cabins also got new soft goods, and the color scheme was punched up to tropical colors everywhere on board.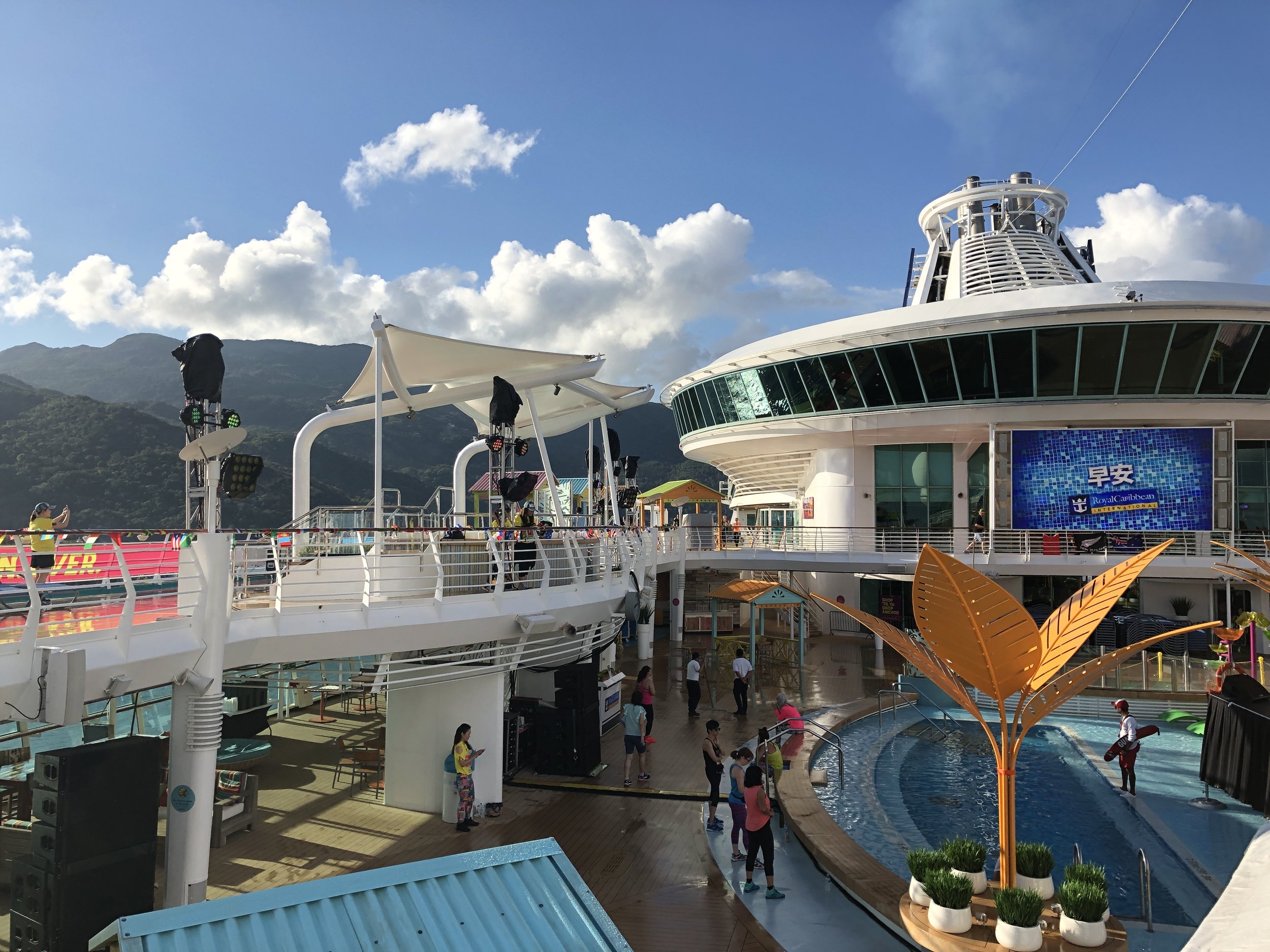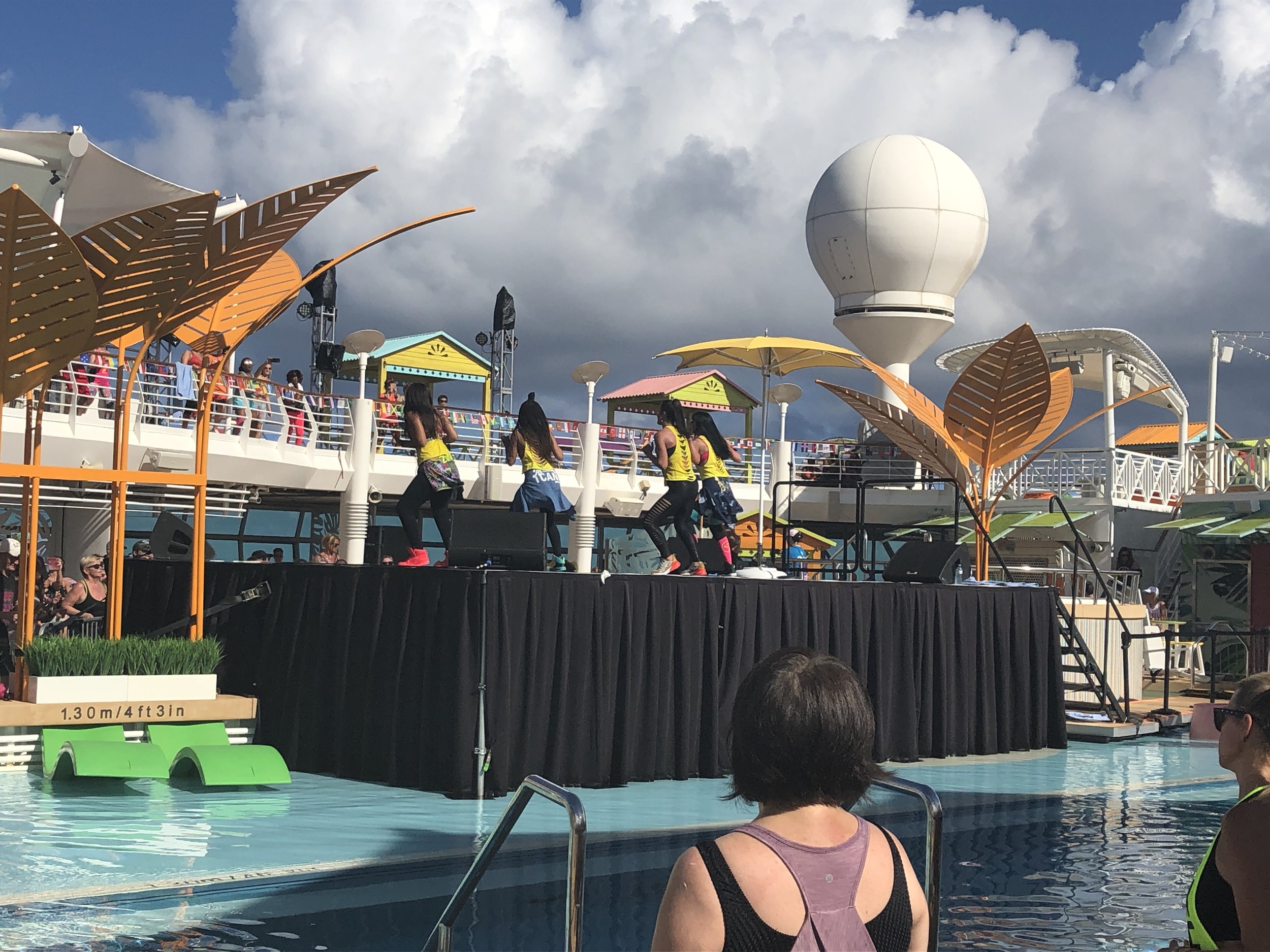 Two of my favorite additions? Cubbies located in the adult only solarium, allow you to stash your shoes and towel before indulging in the hot tubs or pool, freeing up lounge chairs for actual lounging! And the addition of dining options Johnny Rockets (at extra cost) and a Mexican food buffet (complimentary) added within steps of the main pool. Allowing pool goers "barefoot" options for lunch and freeing up space in the busy windjammer lido buffet on sea days!
So What Happens on A Zumba Cruise?
Lots of Dancing…
Zumba is what it is all about. The Zumba Home Office works to provide several professional DJs, as well as a group of live entertainers, so the music never stops. Professional Zumba Educators and presenters from all over the world offer a variety of classes during the day, in all the genres and styles that Zumba offers, including Gold, Strong, and AquaZumba. Classes held out on the pool decks and in large theaters can host hundreds, and while you can sign up for one or two your favorites daily, almost all the classes have overflow and walk in space. Some participants often dance 4 or 5 classes per day!
In the evenings, the DJs and live acts provide the soundtrack for free dancing and seeing some favorite presenters perform on stage, including Zumba founder, Beto Perez. And when the party on deck ends, the party and dancing goes on until the wee hours in the topside disco.
…And a lot of other entertianment!
Some special entertainment events included a salsa performance group from Columbia. A Zumba talent show that requires participants to "try out" ahead of time, and show off their non Zumba talents. This was an engaging "Americas Got Talent" style show with popular Zumba presenters Kass and Steve hosting hour of singing, humorous comedy sketches, unique international folk dancing and even a ventriloquist! Zumba founder, Beto, quizzed and encouraged participants, and unlike the hard hitting hosts on reality tv shows, only love filled the room, winners were determined by audience applause and a young opera singer brought down the house and won herself a future Zumba vacation!
In addition to all the entertainment provided by Zumba, Royal Caribbean Cruises is well known for its outstanding on board entertainment. Because of space taken by Zumba activities, there was less cruise entertainment, but the entertainment staff seemed energized by the "Zumba Energy" onboard and put on terrific shows on stage and on ice.
Our Zumba cruise was a five night cruise that included two port stops. One in Grand Bahamas in Freeport and a stop at the Royal Caribbean private beach destination of Labadee in Haiti. In the Bahamas guests participated in the usual shore excursions, but the Labadee visit included more entertainment and dancing ashore, as well as an all inclusive barbecue lunch.
Labadee
And if we hadn't had enough activity, we decided to take a Royal Caribbean Excursion and bike 8 miles to a local botanical gardens and beach. One of our favorite movements was when this group of "booty shaking" Zumba fans found Booty Drive and decided to pose for our guides!
Unfortunately, there hasn't been a Zumba Cruise Planned for 2020. For those of us who enjoyed any of the first 4 Zumba Cruises, we hope there will be another in 2021!
Miami Pre Cruise
We traveled to Miami a few days ahead of our Sunday embarkation, both to enjoy the March weather in Southern Florida, but also to part in several fun pre cruise parties and events, including a party at the Dirty Rabbit and Master Classes offered around Miami by various local presenters joined by visiting presenters arriving for the cruise.
We stayed at the Beaux Arts in the Brickell Area of Miami. This is close to the cruise terminal and in the heart of the business district in Miami. This is a Marriott Boutique property located atop the Marriott Marquis and shares facilities with the Marquis guests. Because we are frequent Marriott guests, we were upgraded to a large suite. This property is notable for its high tech interfaces in the suite, but we found the service very disappointing. During two stays we had lapses in service checking in and also in making dinner reservations. For a property advertising "boutique" qualities, we felt the staff should be more personalable, knowledgeable and experienced.
We also enjoyed a walk around the Wynwood Walls galleries and shops and enjoyed a meal at 1800Lucky, a pan-Asian food truck style eatery in Wynwood.
The Wynwood Walls district has revitalized this area of Miami with galleries, nightclubs and hip restaurants.